ZEON C1

Fuel Saver
■ Standard tires for passenger cars
■ Improved comfort
■ Improved wet performance
■ Reduced rolling resistance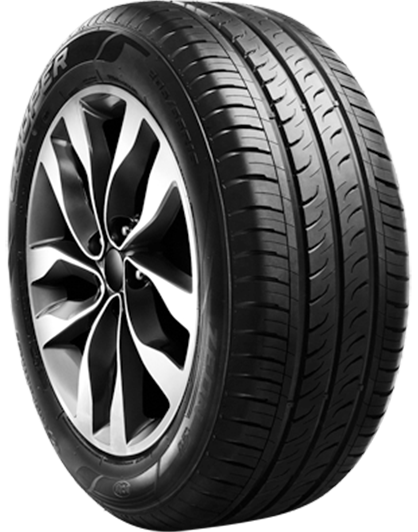 Energy Saving Performance
PRODUCT INFORMATION
Low fuel consumption performance

High-tech club formula and 3D dynamic simulation realize a profile (structure) with reduced rolling resistance

Environmental protection

Environmental-friendly tires with European standard eco-friendly oil and state-of-the-art NMR technology
Wet performance / safety performance

3 wide center grooves and 2 shallow grooves improve drainage and prevent slipping. Wet performance is improved by blending silica compounds.

4 central grooves with a width of 215 or more

Durability

Hardness is ensured by strengthening the side walls. Furthermore, the durability is improved by use of anti-stone technology.
SIZE
15
Size

Load Index & Speed Rating

Rim width

Approved Rim Width

Max.(kPa)

Max.Load (kg)

Side letter

185/60R15

84H

5.5

5.0-6.0

300

500

BLK

185/65R15

88H

5.5

5.0-6.0

300

560

BLK

195/55R15

85V

6

5.5-6.5

300

515

BLK

195/60R15

88V

6

5.5-6.5

300

560

BLK

195/65R15

91H

6

5.5-6.5

300

615

BLK
16
Size

Load Index & Speed Rating

Rim width

Approved Rim Width

Max.(kPa)

Max.Load (kg)

Side letter

195/60R16

89V

6

5.5-6.5

300

580

BLK

205/55R16

91V

6.5

6.0-7.0

300

615

BLK

205/60R16

92V

6

5.5-6.5

300

630

BLK

215/55R16

93V

7

6.5-7.5

300

650

BLK

215/60R16

95V

6.5

6.0-7.0

300

690

BLK

225/55R16

95V

7

6.5-7.5

300

690

BLK

225/60R16

98V

6.5

6.0-7.0

300

750

BLK